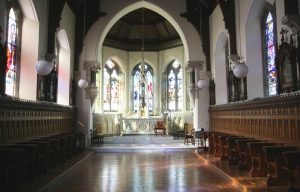 The Chapel of the Sacred Heart is a neo-gothic gem, in which architect J.J. McCarthy (1817–82), son of a Kerry family that settled in Dublin, drew on the nineteenth-century revival of medieval architectural styles and infused them with Irish overtones. More than that, it is a sacred space, illuminated in the artistry of its stained-glass windows. The chapel was refurbished in the 1920s under the direction of Mother Ita Macken, and completed with the installation of Harry Clarke's windows, which Mother Ita commissioned at a cost of £1,000 in 1922. These beautifully crafted windows illustrate the life of Christ from his birth to his resurrection. The Altar is of Italian Carrera marble and dedicated to the Sacred Heart. The Windows to the rear of the Altar were installed in 1899 and made by Franz Mayer Stained Glass of Munich, Germany. They depict the :
Apparition of the Sacred Heart to St. Margaret Mary Alacoque ; The Annunciation ; The Holy Family Household ; the Presentation of Mary in the Temple ; and Mary's Assumption into Heaven.
The lower sections of the tiled walls of the Sanctuary are decorated with
24 marble
panels
adorned with special symbols, such as:
the oak tree, the vine, the chalice, a Celtic cross, the crown of thorns, nails, the spear and the sponge and, a hammer and rule,
in memory of the builders. The Nuns' Pews and Choir Stalls
–
the seating to the left and right, are hand-carved from Spanish Oak. The ledges underneath these hinged seats were known as
Misericords
– for the mercy or compassion shown towards the infirm or elderly. The
Arches of the Stalls
are mounted with the
oak-leaves-and-acorn
symbol of the Presentation Order. The Stations of the Cross are oil painted and the
Frames
hand-carved from Irish Oak. The Parquet Flooring, with its distinctive geometrical pattern, adds character to the Chapel. The Organ Gallery – after
Vatican (ii)
the Organ, which is still in perfect tone, had an electric pump installed to replace the bellows which till then had been pumped by hand.
Chapel of the Sacred Heart
This page is also available in: Gaeilge (Irish)