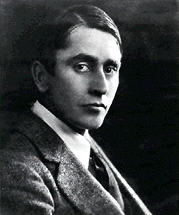 Harry Clarke was born on March 17th, 1889 in North Frederick Street, Dublin, where his father Joshua had a decorating and stained glass business. While still at school with the Jesuits in Belvedere, Clarke showed promise in drawing and art and was described as a reserved and sensitive boy. He was apprenticed in 1905 for five years to his father's business while attending schools of art in Dublin and London for periods in between. By 1914, he had studied, exhibited, won a travelling studentship, and travelled to Paris and Chartres. His first stained glass commission was for the windows of the Honan chapel in University College Cork, which was completed in 1917. Between 1917 and his early death in 1931, in spite of ill health, he carried out over forty commissions for churches in Ireland, Great Britain and elsewhere. One of his most famous works is the Geneva Window, commissioned by the state for the International Labour Building of the United Nations.
HARRY CLARKE TIMELINE
Joshua Clarke moved to Dublin from Leeds at the age of 18 in 1886, 3 years after marrying Sligo woman Bridget MacGonigle, he set up his own stained glass and decorating business. J. Clarke & Sons at No. 33 North Frederick St., where their 4 children were born.
1889
Henry Patrick Clarke (Harry) is born exactly a year after his brother Walter on 17th of March. Brought up in 33 North Frederick St. and educated at Marlborough St. Model School and Belvedere College.

1903
His mother, Bridget dies and Harry who was very close to her leaves school.
1904
Works at the office of Thomas McNamara, Architect. McNamara encourages him to go into stained glass.
1905
Begins a five-year apprenticeship to his father's decorating and stained glass business. Harry also starts night classes in stained glass at the Metropolitan School of Art, Kildare Street, under A.E. Child.
1906
Paints first piece of glass. Goes to London for two months to study at the South Kensington School of design. Returns to Dublin to resume apprenticeship and night classes.
1907 Second visit to London
1908 Unwell from January to June
1909
Visits Inisheer in Aran Islands in August with Austin Mulloy who later worked on the Convent Windows. He returns each summer for the next six years. First free-lance graphic commissions.
1910
First exhibition with the Arts & Crafts Society of Ireland and annual Art Industries Exhibition, R.D.S.
1911
Wins the Gold Medal for stained glass in the Board of Education National competition, South Kensington. Wins again in 1912 and 1913.
1912 Work exhibited in Dresden.
1913
Leaves Art School and moves to London where he sets up a studio. First recorded illustrations from literature. He was commissioned to illustrate Pope's 'The Rape of the Lock' and later Coleridge's 'The Rime of the Ancient Mariner'. (The blocks for both were burned in the Easter Rising of 1916). Awarded a Travelling Scholarship

1914
Travels to Paris and Chartres in January with Scholarship. Returns one week later with a severe chill to London. St. Patrick panel exhibited in the Louvre. Returns to France in May to study Medieval stained glass. Marries former student, Margaret Crilley on October 31st.
1915
First piece of stained glass commissioned by Sir John Robert O'Connell for the Honan Chapel in Cork. 11 single light windows of the Virgin Mary, St. Joseph and nine Irish Saints. (He was developing a relatively new technique – plating and aciding which allowed for greater detail and variety of colour in a single piece of glass. Over the remaining 15 years of his career he produced over 40 stained glass, commissioned mainly in Britain and Ireland. Every finished window was displayed at the studio before being sent off as Harry believed the public had a right to be able to see it.)
1916
Easter Rising; blocks burnt for what would have been his first illustrated book. Hans Christian Andersen's Fairy Tales Illustrated by Harry Clarke published. He became well know as an illustrator and did 6 books in total as well as a number of smaller volumes.
1917 Honan Chapel windows completed, they received a rapturous reception.
1918 Starts teaching at the Metropolitan School of Art (until 1923).
1919 Bodkin's article "The Art of Mr. Harry Clarke" published in the STUDIO.

1920 First stained glass commission in England.
1921 Death of his father, Joshua. Assumes management of J. Clarke & Sons with brother Walter. Until now he had been cooking independently paying his father for use of the studio facilities.
1922 Mother Superior Ita Macken of the Presentation Sisters, Dingle commissioned Harry Clarke to design and create twelve stained glass lancet windows depicting scenes from the life of Christ. Exhibition in Paris.
1923 Windows in Glasgow and Brisbane acclaimed. Company moves to more spacious rooms in No. 6 and 7 North Frederick St. opposite the original No. 33 residence.
1924 Ballinrobe and Ashdown Park windows commissioned. Exhibits in Aonach Tailteann RDS, wins gold trophy for his "Eve of St. Agnes" window and 3 silver medals. According to to W. B. Yeats, "Now the acknowledged best glass is made by Harry Clarke".
1925 First London Exhibition – book illustrations. Suffers from a serious eye infection. Returns to Dublin in December and visits Ballinrobe on December 26 – 27 to see all his windows fixed.
1926 Nearly fatal bicycle accident in January, leaves him with fractured ribs and a compression at the base of his skull. Within 3 weeks he is rushed to hospital delirious. Recovered enough by Easter to visit Spain, Gibraltar and Tangier with Lennox Robinson. Commissions: Newport Last Judgement and Geneva Window – an Irish Government Commission for the League of Nations, International Labour Organisation building in Geneva – 13 panels each recording an incident or scene from the work of an Irish Writer.
1927 Walter is very sick and unable to work all of the time. Work begins to fall behind schedule. Exhibits stained glass in the Glass House, Fulham.
1928 Increasingly ill. His illustrated SWINBURNE published by John Lane.
1929 1st American commission for Bagonne, New Jersey. The Geneva window commissioned by the Irish Government in 1926 for the League of Nations, International Labour Organisation building in Geneva, is completed. Prudish reaction, and they are never sent to Geneva due to implications of 'sex, drunkenness and sin'. (Now in the Wolfson Initiative, Miami in Florida.) Increasingly bad health, Doctors insist he travels to sanitorium at Davros, Switzerland. The last exhibition of his work held (in his absence) during his life in the Mill Hall, Dublin.
1930
The decorating side of the business is running at a substantial rate and is liquidated in March. The stained glass business becomes the 'Harry Clarke Stained Glass Studio'. Lennox Robinson granted power of attorney in his absence, of which few people are aware. Stained glass craftsman Charles Simmons suggested as new Manager and arrives in Dublin for a trial year. Harry moves to Pau, South of France and returns to Dublin in May. His health does not permit much time at the studio which is on the verge of falling apart. Death of his older brother Walter in July. In October, Harry leaves Ireland for the last time accompanied by Lennox Robinson, they travel back to Darvos.
1931
Harry Clarke dies in his sleep at Coire, in Switzerland, on January 6th, on his way home to Dublin. He was 42.
This page is also available in: Gaeilge (Irish)