Long Term / Sabbatical Students
Díseart welcomes students to come and follow a guided reading programme in the field of Celtic Culture and Spirituality for periods of 3 months - 1 year.
These guided reading programmes are supervised by recognized scholars/professors in the chosen fields.
For a printable Application Form Click Here
Father Bede Jagoe on his Díseart Experience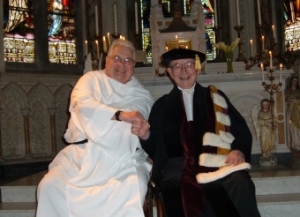 Fr. Bede Jagoe and Msgr Fiannachta on Graduation Day
As a 71 year old Dominican friar / priest on sabbatical I would like to express my overall experience coming to Díseart from the USA for the Spring 2005.
Before choosing Díseart I had the opportunity to look at various programmes and a few 'priest / religious' programmes both in the States and abroad. I was fortunate to choose Díseart.
Díseart was prompt in replying to my initial search. E-mail contact and brochures were sent to me laying out their curricula. My interest was in Celtic spirituality, but Díseart offered even more in terms of Early Irish Literature, Archaeology, Irish Language, and Spirituality.
The time frame of 4 months was ideal for me. At Díseart I was engaged in serious study along with college students who were studying for credit towards a degree.
This was not a casual programme as papers were due, field trips presented, and exams given. I had the added privilege of having Msgr. Padraig O'Fiannachta as my mentor in order to produce, under his supervision, an extended essay on early Irish monasticism and its missionary outreach.
The staff at Díseart could not have been kinder. Not only was typical Irish hospitality shown in the daily offering of tea and coffee, but the added provision of my own private office was afforded me.
My accommodation at Dingle Marine Cottages was excellent and more than I had expected. I had a 3 bedroom, two-story cottage to myself, approximately ¾ of a mile from school.
The extra bedroom space meant that I could invite visitors to come to visit me. I had visitors twice from England, twice from the USA, not to mention 3 or 4 visitors from Ireland.
As for finances I had budgeted 260 Euro each week for food. However, I found that bringing my lunch to school I could save, so that my food bill per week was close to 200 Euro.
I would highly recommend Díseart for anyone, lay or cleric, who wishes to do a sabbatical in Irish Studies.
The language, literature, archaeology, plus the private library of Msgr O'Fiannachta served to fortify my ongoing studies in Celtic spirituality and greatly enhanced it.
Do consider it for your sabbatical in Irish studies at Díseart on the Dingle peninsula.
Bede Jagoe O.P. - April 2005 - Díseart - Dingle