Spring Programme for Díseart Institute of Education and Celtic Culture in Association with Sacred Heart University

>> Study Abroad Programme: Irish Studies with SHU in Ireland
>> Courses for Long Term / Sabbatical students
Díseart Institute of Education and Celtic Culture promotes an interdisciplinary approach to all its research activities and courses and draws on the richest source of spoken Irish and folklore in Munster.
The Corca Dhuibhne Peninsula has provided inspiration for many writers and scholars of international acclaim. The academic directors and lecturers are of international repute and leaders in their fields.
Accredited courses leading to certificate, diploma, degree, postgraduate qualifications are offered in association with Irish, European and American Universities and colleges. Shorter courses are also available.
For a printable Application Form Click Here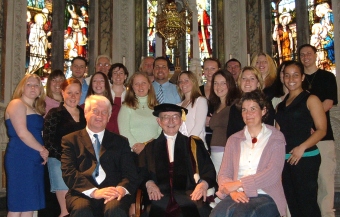 Díseart Graduation Day
Courses for Guest Students
Introduction to Irish Archaeology
This course will examine Irish Archaeology in a chronological order from the earliest settlers to modern times.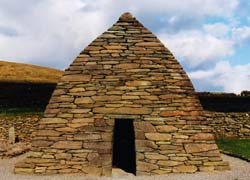 Gallarus Oratory, The Dingle Peninsula
Theology and Native Spirituality
Participants will gain an understanding of the basic principles of theology and native spirituality and paraliturgical celebrations in Ireland.
Traditional Irish Music Song and Dance
An overview of Irish Traditional music, song and dance from their earliest references to today's influence on the world music stage.
Beginner's Irish
A practical language course with the emphasis on developing communication skills, in order to deal effectively in Irish with daily situations.

Irish Folklore and Anthropology
The course will provide an introduction to Irish folklore as represented in both English and Irish and in its various social and material manifestations.
The student will be introduced to the cultural history of Ireland and in particular the West Kerry Peninsula, Corca Dhuibhne.
Irish Literature

This is a review course in Irish Literature from early lyric poetry and epic cycles to the present day.
Litríocht an Bhlascaoid agus Chorca Dhuibhne

Cúrsa ar phrós agus ar fhilíocht údar mar cad seo: Tomás Ó Criomhthain, Muiris Ó Súilleabháin, Peig Sayers, Nuala Ní Dhomhnaill, Pádraig Ó Cíobháin, Mike Daneen Ó Sé, An Seabhac, Danny Mac Síthigh, Bríd Ní Mhóráin, Maria Ní Mhurchú, Pádraig Ó Fiannachta, agus Eibhlín Ní Shúilleabháin.
Other

Díseart welcomes new ideas or suggestions for other courses. Please feel welcome to contact us by email, telephone or surface mail.
Email: info@diseart.ie
Telephone: +353 (0) 66 91 52476